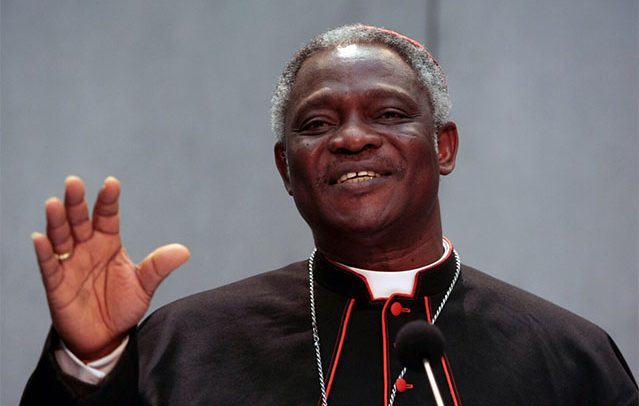 Cardinal Peter Kowdwo Appiah Turkson
Cardinal Peter Kowdwo Appiah Turkson has denied claims in section of both local and international media that he has resigned as a cardinal of the Catholic Church.
According to the former President of the Pontifical Council for Justice and Peace, some people misunderstood his notification to Pope Francis about the end of his five years term in a specific role and position as resignation.
It would be recalled that news broke out in December that Cardinal Turkson have abruptly offered his resignation from a key Vatican department.
Speaking on Accra based radio station, Asaase radio, Cardinal Turkson explained that"… So that's just what happened. Why this was seen and interpreted as resignation beats my imagination and as a result of that, I tweeted to explain all of this but people took things the way they wanted to take it. There was nothing to get upset or get worried about."
He stressed that, "If you wanted to put it more bluntly, we'll probably say that within the church in our circus, the saying is that: nobody goes up the cross and then descends from the cross. Jesus didn't go to the cross and then decided to come off the cross, so when you engage in the service of the church I think you go all the way …
"What it is, is a very simple thing; I don't know why it made such rounds around the world and generated all the discussions. Here in the Vatican, every position is given for five years and at the end of the five years, either the term is extended, renewed or one is reassigned to some other position. I left Ghana in 2010, that means I have been here [for] eleven years which means I've done two terms of five years…"
"I've met this experience before, at the end of the set of five years, my mandate was slightly modified and extended. When I came here, I was to take charge of an office called Justice and Peace, at the end of five years it had a merger. Three other offices were joined with our office and that became the second set of five years and this happened in August 2016. So 2021 is the end of the second set of five years. So at the end of all of these years, you notified the Pope that your five years is up to enable him to take a decision."
After mentioning that he was not upset about the report concerning his resignation because he new it was not true, Cardinal Turkson disclosed that Pope Francis has reassigned him to take up another responsibility.
He said "I wasn't upset. So this is what happened last year, the Pope decided to reassign and…have you move on and that's just what happened; you have to notify the Pope that your five years are up and doing that it's not resignation, it's just a notification," he said.
"Over here in the Italian language, we say that: you put your mandate back to his hands for him to reassign, extend, modify or do what he wants to do with it. So that's just what happened. Why this was seen and interpreted as resignation beats my imagination and as a result of that, I tweeted to explain all of this but people took things the way they wanted to take it. There was nothing to get upset or get worried about."
Cardinal Turkson is seen by some as a candidate to become the first African pope in 1,500 years