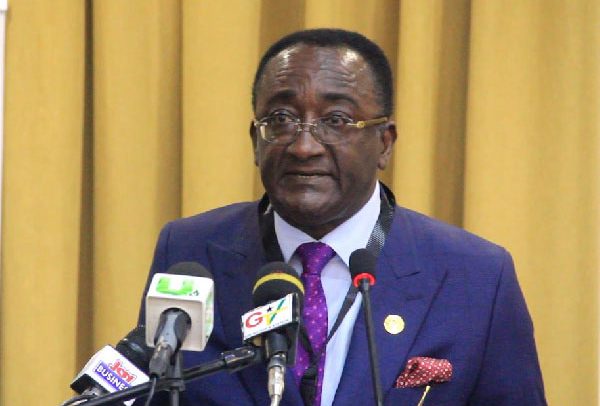 Dr. Owusu Afriyie Akoto
The Agric Minister, Dr. Owusu Afriyie Akoto says former President John Mahama's brother is stealing government's subsidised fertilizers meant for smallholder farmers in the country.××
According to the minister, John Mahama's brother has found his way to be benefiting from the government's subsidised fertilizers meant for smallholder farmers although he is not qualify because he is into large scale or commercial farming.
The Minister explained that the subsidised fertilizers are meant for poor farmers cultivating about 2 or 3-acre farms and not farmers like Mahama's brother who is a commercial farmer, cultivating 300 acres and can raise funds to purchase fertilizer for his farm.
"The subsidies are meant for farmers with 2, 3 acres which is the bulk of smallholders and not for 300 acres for goodness sake. So he has actually scrounged on poor farmers to start with, if he was able to do 300 acres with subsidised fertilizer", Dr. Akoto told Joynews PM Express host, Evans Mensah.
The Agric minister was reacting to former President Mahama's allegation that the country was facing imminent food shortage.
"So what Mr Mahama is saying cannot be true. In any case, we are talking about millions and millions of farmers. For him to make that conclusion from one observation, it means that when it comes to statistics he has absolutely no clue,"
This revelation was on the back of claims made by the former President that Ghana is most likely to experience food shortage next year because the government flagship Planting for Food and Jobs (PFJ) programme is a failure.
According to Mr. Manama, his brother who cultivates 300 acres farm is now not getting government's subsidized fertilizer to farm and has affected his output by reducing his farm size to 80 acres thereby government should inject more capital into it flagship Planting for Food and Jobs (PFJ) in other for his brother to continue to enjoy the government subsidy.
"My brother is a farmer and he tells me this year, he has not received any fertiliser supply from the government and so he bought his own fertiliser and a bag of fertiliser is very expensive. Normally, he cultivates 300 acres of maize each year.
"But this year, he had to reduce it, he was not able to cultivate even 80 acres. So there's a possibility of food shortage next year because the Planting for Food and Jobs Programme has failed," the former President exposed how his brother is enjoying from the poor farmers in the country.
The Agric Minister insists that Mahama's brother is only 'stealing' from the poor farmer